U.S. Supreme Court Center
Justia U.S. Supreme Court Center
As the highest court in the nation, the U.S. Supreme Court has shaped the rights and freedoms of Americans since the Founding. Justia provides a free collection of all U.S. Supreme Court decisions from 1791 to the present. We also offer opinion summaries, briefs, oral argument audio, and resources that provide a panoramic view of each case in its context.
Landmark U.S. Supreme Court Cases
Recent U.S. Supreme Court Decisions
Allen v. Milligan (June 8, 2023)
In a case under the Voting Rights Act, the Supreme Court strikes down an Alabama redistricting map that diluted Black voting power.
Health and Hospital Corp. of Marion County v. Talevski (June 8, 2023)
Supreme Court holds that the Federal Nursing Home Reform Act rights to be free from unnecessary chemical restraints and to be discharged or transferred only when certain preconditions are met are enforceable under 42 U.S.C. 1983.
Jack Daniel's™ Properties, Inc. v. VIP Products LLC (June 8, 2023)
Supreme Court holds that the Lanham Act's exclusion from trademark dilution liability for any non-commercial use of a mark does not shield parody, criticism, or commentary when an alleged diluter uses a mark as a designation of source for its own goods.
Dubin v. United States (June 8, 2023)
Supreme Court holds that a defendant who committed healthcare fraud by overbilling Medicaid did not necessarily also commit aggravated identity theft simply because the fraudulent billing included patient identification information.
United States ex rel. Schutte v. Supervalu Inc. (June 1, 2023)
The Supreme Court holds, in False Claims Act suits concerning Medicare and Medicaid reimbursement, that the Act's scienter element refers to a defendant's knowledge and subjective beliefs—not to what an objectively reasonable person may have known or believed.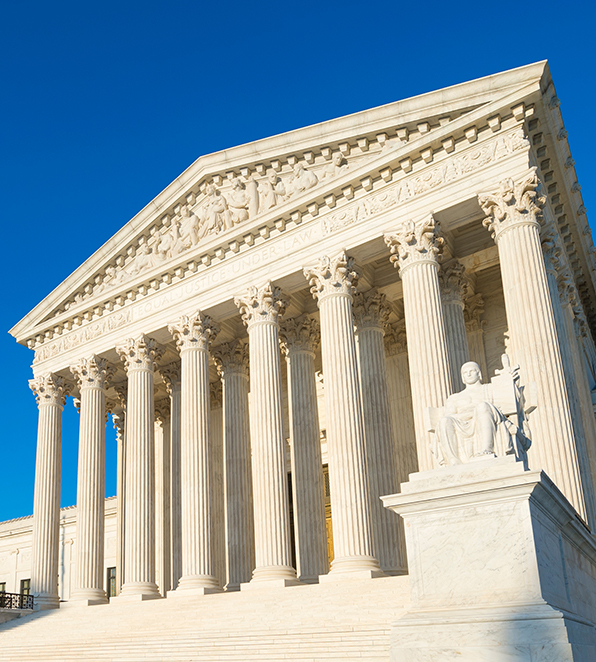 Current U.S. Supreme Court
U.S. Supreme Court History