US Supreme Court Center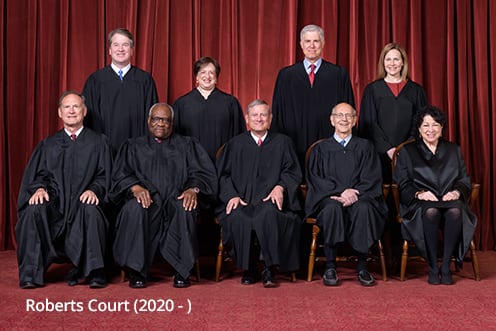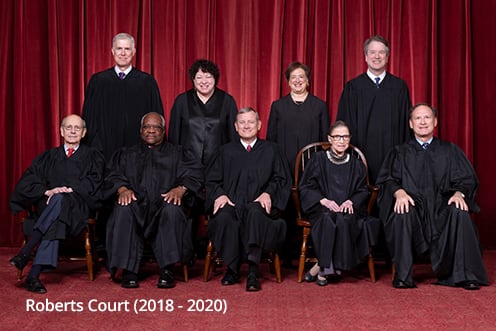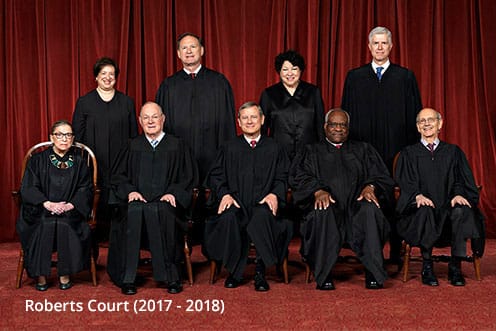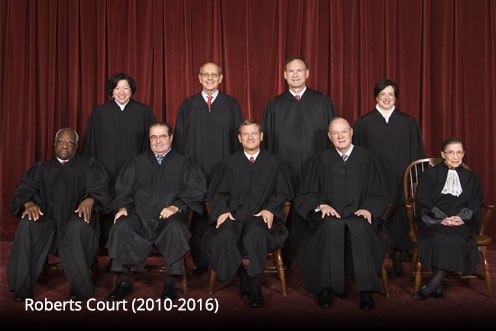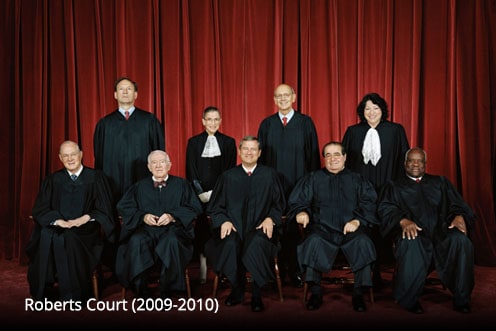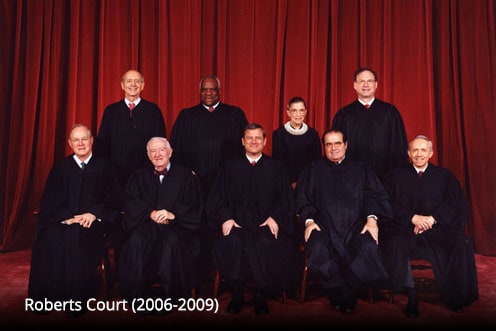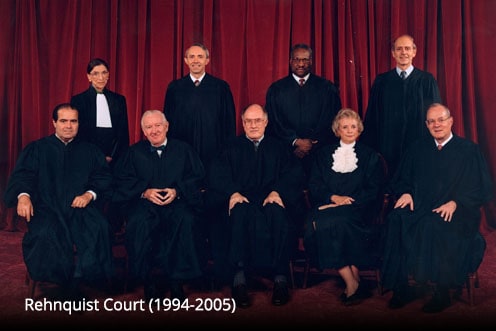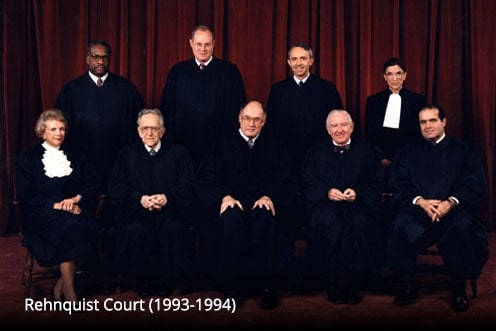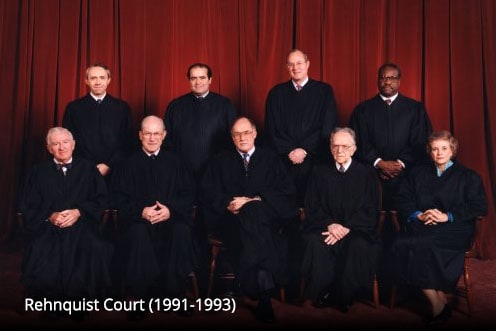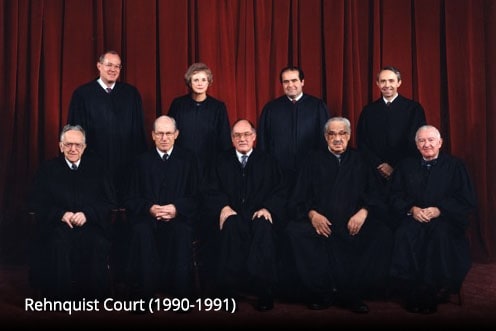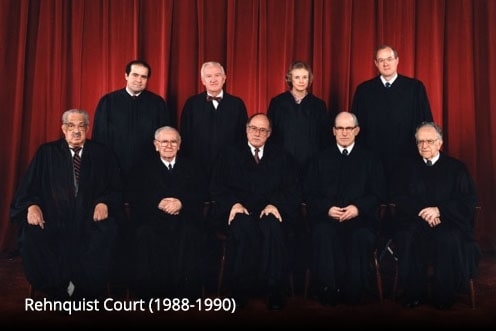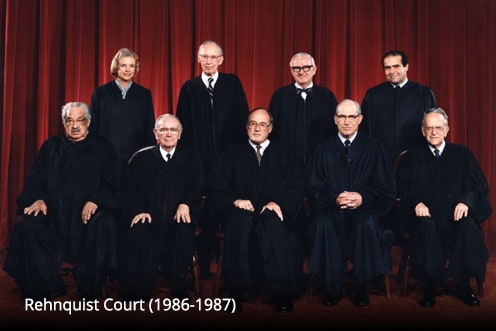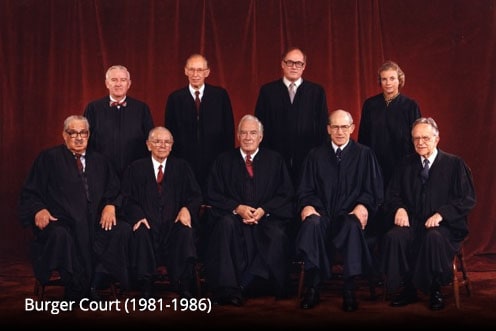 Recent Decisions
Mahanoy Area School District v. B. L. (June 23, 2021)
A student's off-campus posts on Snapchat, criticizing her school and containing vulgar language, are not subject to regulation by the school; the posts contained no special features, such as threats or bullying, that would place them outside the First Amendment's ordinary protection.
Cedar Point Nursery v. Hassid (June 23, 2021)
A California regulation, requiring that agricultural employers allow union organizers onto their property for up to three hours per day, 120 days per year, constitutes a compensable, per se, physical taking of property.
Collins v. Yellen (June 23, 2021)
The Housing and Economic Recovery Act of 2008 violated the separation of powers by creating a single director for the Federal Housing Finance Agency, removable by the President only "for cause."
Lange v. California (June 23, 2021)
Pursuit of a misdemeanant does not trigger a categorical rule allowing a warrantless home entry.
United States v. Arthrex, Inc. (June 21, 2021)
Patent Trial and Appeal Board judges yield unreviewable authority during inter partes review and should have been nominated by the President and confirmed by the Senate; the Supreme Court resolves the constitutional problem created by their appointment by the Secretary of Commerce, making Board determinations reviewable by the Patent and Trademark Office Director.
Goldman Sachs Group, Inc. v. Arkansas Teacher Retirement System (June 21, 2021)
In considering securities fraud class certification, the defendant bears the burden of proving a lack of price impact caused by its allegedly fraudulent statements impact by a preponderance of the evidence; the court must consider the generic nature of those statements.
National Collegiate Athletic Association. v. Alston (June 21, 2021)
Supreme Court upholds an injunction prohibiting enforcement of certain NCAA rules, limiting education-related benefits for student-athletes, such as scholarships for graduate or vocational school and payments for academic tutoring.
Nestlé USA, Inc. v. Doe (June 17, 2021)
The Alien Tort Statute does not apply to claims of forced child labor on Ivory Coast cocoa farms. To plead facts sufficient to support a domestic application of the ATS, plaintiffs must allege more domestic conduct than general corporate activity.
Fulton v. Philadelphia (June 17, 2021)
By requiring that Catholic Social Services agree to certify same-sex couples as foster parents in order to continue its contracts with the city, Philadelphia violated the Free Exercise Clause.
California v. Texas (June 17, 2021)
States and individuals lack standing to challenge the minimum essential coverage provision of the Patient Protection and Affordable Care Act of 2010.
Latest Supreme Court News
Is the Forced Contraception Alleged by Britney Spears Legal?
The New York Times,
The United States has a dark history of court-sanctioned sterilization, but more recent rulings and legislation suggest it would violate a basic right.
Justices craft their own remedy for violation of Constitution's appointments clause
SCOTUSblog,
On Monday, the justices ruled 5-4 that the "unreviewable authority" of administrative patent judges meant those APJs were appointed in violation of the Constitution's appointments clause. The justices then ruled 7-2 that the remedy was one of the court's own making — that the director... The post Justices craft their own remedy for violation of Constitution's appointments clause appeared first on SCOTUSblog.
A Cheerleader's Supreme Court Win for Students' Free Speech
The New York Times,
Students got their first free-speech win in 50 years. That's a good thing.
Supreme Court Rules Against Union Recruiting on California Farms
The New York Times,
The case concerned a unique state regulation allowing labor representatives to meet with farm workers at their workplaces for up to three hours a day for as many as 120 days a year.
Challengers to the Affordable Care Act Lose their Third Supreme Court Case: Will They Bring a Fourth?
Justia's Verdict,
In light of the U.S. Supreme Court's decision last week rejecting a third legal challenge to the Affordable Care Act, Cornell Law professor Michael C. Dorf considers whether challengers could bring (and succeed on) a fourth. Professor Dorf explains why subsequent challenges are unlikely to succeed, pointing out that a nonexistent obligation (as the so-called individual mandate now is) cannot be unconstitutional.
Public Information Officer Kathleen L. Arberg Retirement Announcement
Supreme Court of the United States,
The Court today announced that Kathleen L. Arberg, Public Information Officer of the Supreme Court of the United States, will retire on July 3 after serving 22 years as Public Information Officer and a total 40 years in the federal judiciary, 38 years spent at the Supreme Court. Ms. Arberg joined the Court in 1982 and served as an assistant PIO for 17 years before becoming the Public Information Officer in 1999. Ms. Arberg is the fifth person to serve as Public Information Officer since the...
Current Supreme Court Justices
Photos of the justices courtesy of the Collection of the Supreme Court of the United States