U.S. Supreme Court Center
Justia U.S. Supreme Court Center
As the highest court in the nation, the U.S. Supreme Court has shaped the rights and freedoms of Americans since the Founding. Justia provides a free collection of all U.S. Supreme Court decisions from 1791 to the present. We also offer opinion summaries, briefs, oral argument audio, and resources that provide a panoramic view of each case in its context.
Landmark U.S. Supreme Court Cases
Recent U.S. Supreme Court Decisions
Glacier Northwest, Inc. v. International Brotherhood of Teamsters (June 1, 2023)
Supreme Court holds that the National Labor Relations Act does not preempt tort suits against a union that called for a work stoppage that foreseeably resulted in damage to the employer's property.
United States ex rel. Schutte v. Supervalu Inc. (June 1, 2023)
The Supreme Court holds, in False Claims Act suits concerning Medicare and Medicaid reimbursement, that the Act's scienter element refers to a defendant's knowledge and subjective beliefs—not to what an objectively reasonable person may have known or believed.
Slack Technologies, LLC v. Pirani (June 1, 2023)
Supreme Court holds that a lawsuit under section 11 of the Securities Act of 1933 requires a plaintiff to plead and prove that he purchased securities that were actually registered under the allegedly materially misleading registration statement.
Sackett v. Environmental Protection Agency (May 25, 2023)
Supreme Court limits Clean Water Act jurisdiction over "adjacent wetlands" to those having a continuous surface connection to bodies that are "waters of the United States" in their own right, with no clear demarcation between the "waters" and wetlands.
Tyler v. Hennepin County (May 25, 2023)
Supreme Court holds that a Minnesota law, permitting a county to sell property for delinquent real estate taxes and keep the excess value above the amount of the tax debt, constitutes a "classic taking."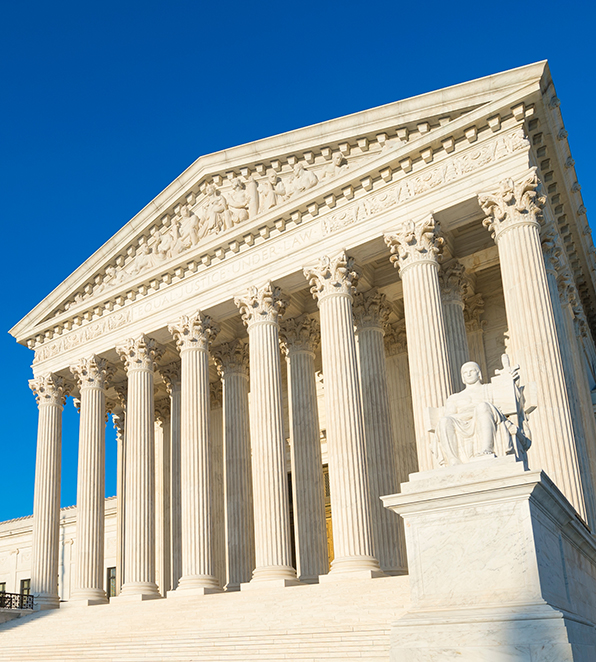 Current U.S. Supreme Court
U.S. Supreme Court History