US Supreme Court Center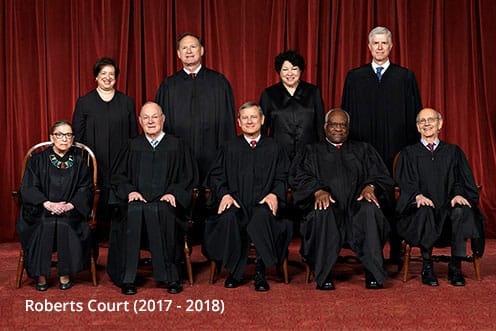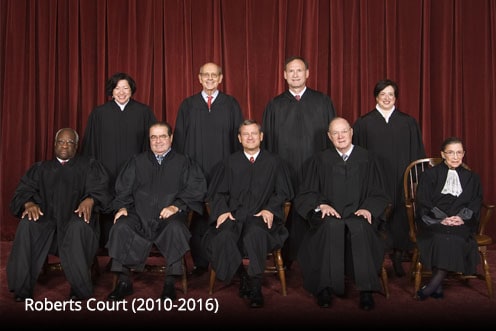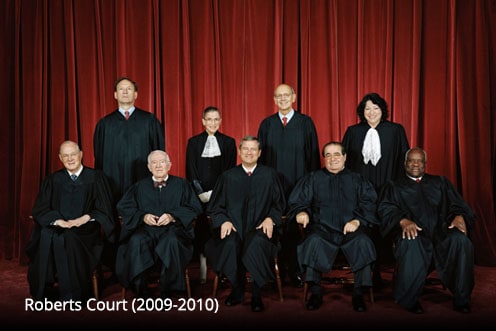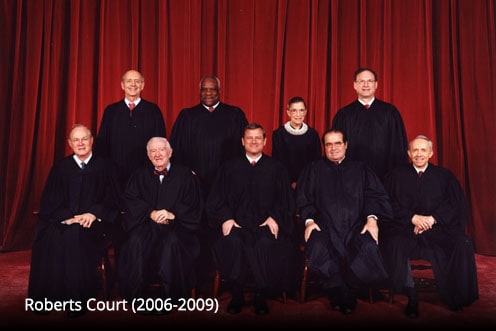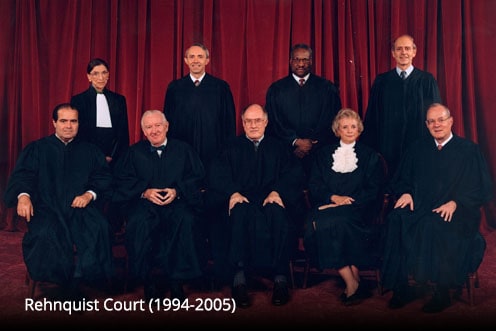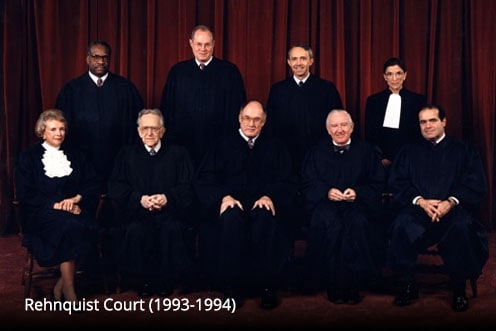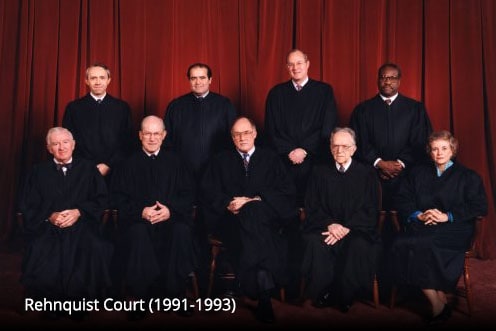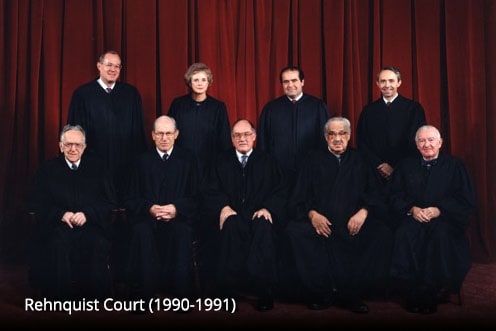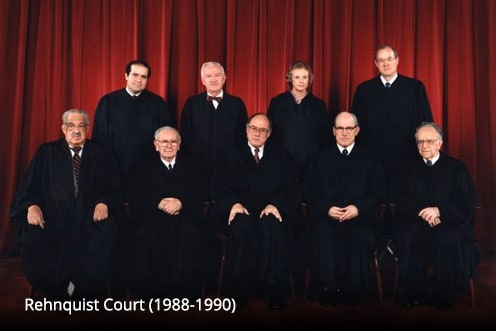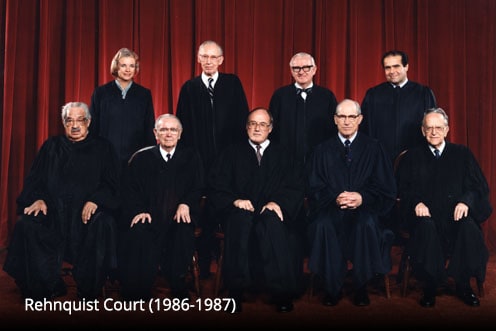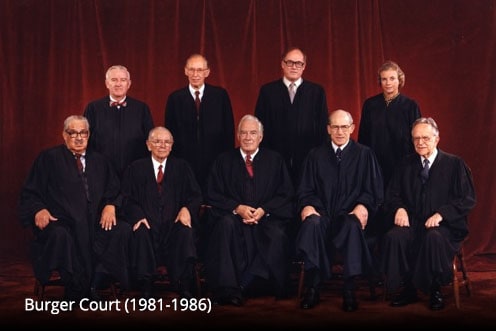 Recent Decisions
United States v. Haymond (June 26, 2019)
The application of 18 U.S.C. 3583(k) to sentence a defendant to an additional mandatory minimum prison term, based on a judge's preponderance of the evidence findings, violated the defendant's right to trial by jury.
Kisor v. Wilkie (June 26, 2019)
Restricting its 1997 decision in Auer v. Robbins, the Supreme Court holds that when the reasons for the presumption in favor of deference to an agency's interpretation of its own ambiguous regulation do not hold up, or when countervailing reasons outweigh them, courts should not give deference to an agency's reading.
Tennessee Wine and Spirits Retailers Association v. Thomas (June 26, 2019)
Supreme Court invalidates a Tennessee law that requires applicants for an initial license to operate a retail liquor store to have resided in Tennessee for the prior two years.
Dutra Group v. Batterton (June 24, 2019)
A plaintiff may not recover punitive damages on a claim of unseaworthiness.
United States v. Davis (June 24, 2019)
Supreme Court invalidates the residual clause definition of "crime of violence" in 18 U.S.C. 924(c), which authorizes heightened criminal penalties for using, carrying, or possessing a firearm in connection with any federal "crime of violence or drug trafficking crime."
Food Marketing Institute v. Argus Leader Media (June 24, 2019)
Freedom of Information Act Exemption 4, which shields from disclosure "trade secrets and commercial or financial information obtained from a person and privileged or confidential," applies to commercial or financial information that is customarily and actually treated as private by its owner and provided to the government under an assurance of privacy.
Iancu v. Brunetti (June 24, 2019)
The Lanham Act's prohibition on the registration of "immoral[ ] or scandalous" trademarks violates the First Amendment.
Knick v. Township of Scott (June 21, 2019)
Supreme Court expressly overrules its Williamson County holding that property owners must seek just compensation under state law in state court before bringing a takings claim under 42 U.S.C. 1983. A property owner acquires a right to compensation immediately upon an uncompensated taking because the taking itself violates the Fifth Amendment.
North Carolina Department of Revenue v. Kimberley Rice Kaestner 1992 Family Trust (June 21, 2019)
North Carolina is prohibited, under the Due Process Clause, from imposing a tax on trust income where the beneficiary had no right to and did not receive, any distributions; the trust had no physical presence, made no direct investments, and held no real property in North Carolina.
Rehaif v. United States (June 21, 2019)
In a prosecution under 18 U.S.C. 922(g) and 924(a)(2), the prosecution must prove both that the defendant knew he possessed a firearm and that he knew he belonged to the relevant category of persons barred from possessing a firearm.
Flowers v. Mississippi (June 21, 2019)
The history of the prosecution's use of peremptory strikes in a defendant's first four trials, disparate questioning of black and white prospective jurors, and inaccurate explanations for striking black prospective jurors established that the court committed clear error in concluding that the peremptory strike of a black prospective juror was not motivated in substantial part by discrimination.
McDonough v. Smith (June 20, 2019)
The statute of limitations for a 42 U.S.C. 1983 fabricated evidence claim began to run when the criminal proceedings against the plaintiff terminated in his favor with his acquittal.
Gundy v. United States (June 20, 2019)
The Sex Offender Registration and Notification Act section 20913(d) does not violate the nondelegation doctrine by providing that the Attorney General "shall have the authority" to "specify the applicability" of SORNA's registration requirements to pre-Act offenders and "to prescribe rules for [their] registration."
PDR Network, LLC v. Carlton Harris Chiropractic, Inc. (June 20, 2019)
Supreme Court remands the question of whether a district court, interpreting the Telephone Consumer Protection Act, was required to adopt an interpretation from a 2006 FCC Order.
American Legion v. American Humanist Association (June 20, 2019)
Although a war memorial, erected in the form of a Latin cross, may have originally served a purpose infused with religion, the passage of time has given it historical and cultural significance so that its location on public land is not unconstitutional.
Latest Supreme Court News
Opinion analysis: Divided court throws out additional jail time for sex offender
SCOTUSblog,
In 2010, Andre Haymond was convicted of possessing child pornography and sentenced to 38 months in prison, followed by 10 years of supervised release. He was also required to register as a sex offender. In 2015, a federal district court sent Haymond back to prison for five more years because he had violated the terms…
Challengers urge justices not to decide racial-discrimination claim in census case
SCOTUSblog,
With less than 24 hours before the justices are expected to issue their final decisions of the term, yet another filing in the dispute over the decision to add a question about citizenship to the 2020 census arrived at the Supreme Court. This one came from the challengers in the case, who urged the justices…
Opinion analysis: A total victory for Total Wine in 21st Amendment dispute
SCOTUSblog,
Nearly 90 years ago, the 21st Amendment ended Prohibition and gave states broad power to regulate alcoholic beverages. Today, the Supreme Court ruled that the states' power is not unlimited. By a vote of 7-2, the justices struck down a Tennessee law that requires anyone who wants a retail license to sell alcohol in the…
Supreme Court Strikes Down Tennessee Liquor Law
The New York Times,
The law barred newcomers to the state from operating liquor stores. The justices based their decision on the 21st Amendment, which ended Prohibition.
After Supreme Court Ruling, Are Profane Trademarks Truly "FUCT"?
Justia's Verdict,
Cornell law professor Michael C. Dorf comments on a decision the U.S. Supreme Court issued this week invalidating a provision of the Lanham Act that prohibited registration of "immoral" and "scandalous" trademarks. Dorf provides a brief history of the legal protection for profane speech and considers the implications of a more precisely worded statute regulating profanity for trademark registration purposes.
Revisions to the Rules of the Court
Supreme Court of the United States,
The Supreme Court of the United States has adopted a revised version of the Rules of the Court. The new Rules will take effect on July 1, 2019. The revisions to the Rules include substantive changes to Rules 14.1(b), 15.2, 25.3, 29.1, 29.2 and 33.1(g). Changes to Rules 14.1(b) and 15.2 require parties to identify any trial and appellate court cases that are directly related to the case in this Court. This provision is designed to assist the Justices in determining whether their...
Current Supreme Court Justices
Photos of the justices courtesy of the Collection of the Supreme Court of the United States