US Supreme Court Center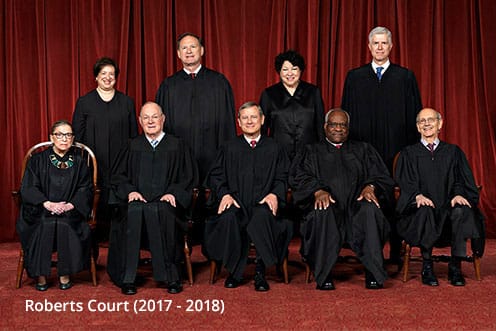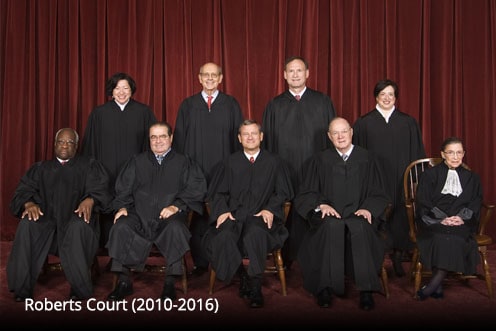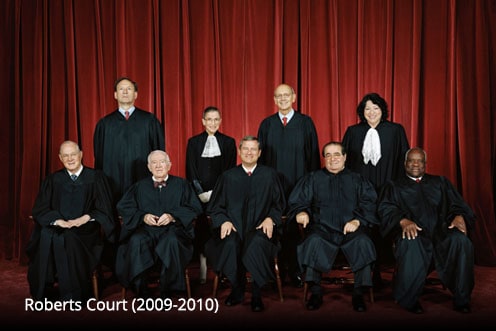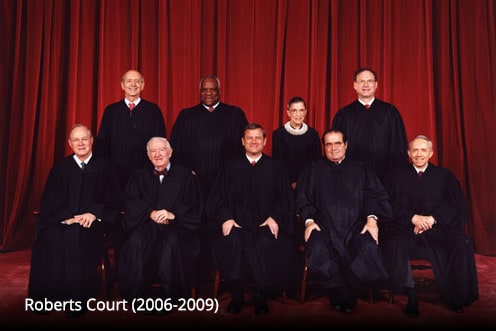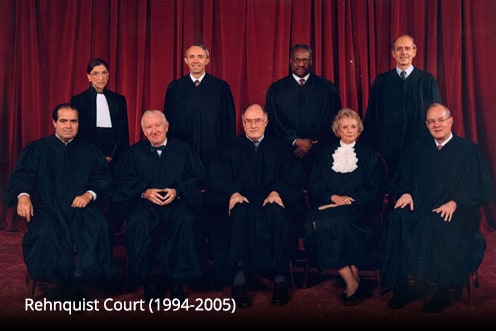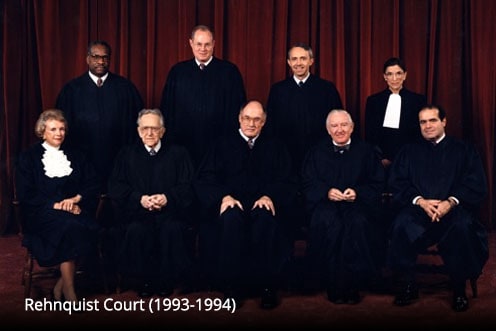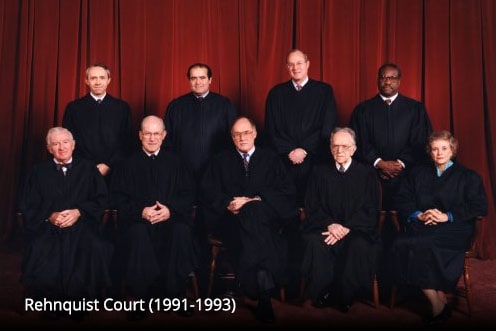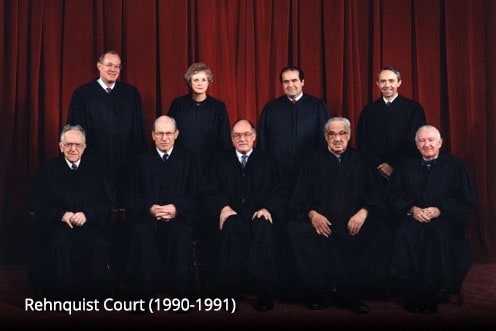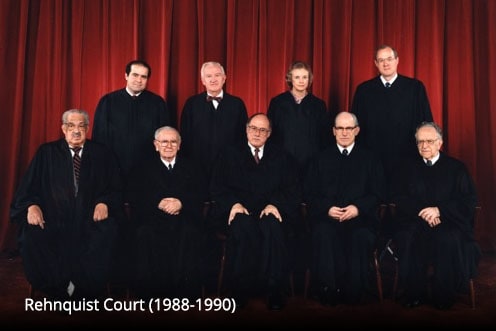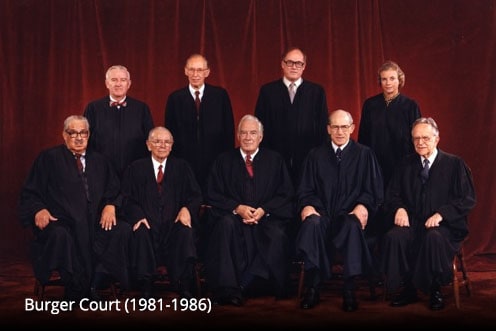 Recent Decisions
WesternGeco LLC v. ION Geophysical Corp. (June 22, 2018)
An award for lost profits with respect to goods, assembled outside of the United States from components manufactured in the United States, was a permissible domestic application of section 284 of the Patent Act.
Currier v. Virginia (June 22, 2018)
Defendant, having consented to have felon-in-possession charge tried separately and after burglary charges, may not prevent the second trial on double jeopardy grounds after being acquitted in the first trial.
Dalmazzi v. United States (June 22, 2018)
Carpenter v. United States (June 22, 2018)
Obtaining cell-site location information constitutes a search under the Fourth Amendment, requiring a warrant supported by probable cause.
Ortiz v. United States (June 22, 2018)
Simultaneous service on the Army Court of Criminal Appeals and the Court of Military Commission Review violated neither 10 U.S.C. 973(b)(2)(A), which provides that unless "otherwise authorized by law," an active-duty military officer "may not hold, or exercise the functions of," certain "civil office[s]" in the federal government, nor the Appointments Clause.
Wisconsin Central Ltd. v. United States (June 21, 2018)
Employee stock options are not taxable "compensation" under the Railroad Retirement Tax Act because they are not "money remuneration."
South Dakota v. Wayfair, Inc. (June 21, 2018)
Overruling its own precedent requiring physical presence in the state, the Supreme Court holds that states may require out-of-state sellers to collect and remit sales tax.
Pereira v. Sessions (June 21, 2018)
A putative notice to appear that fails to designate the specific time or place of the noncitizen's removal proceedings is not a notice to appear under 8 U.S.C. 1229(a), and does not trigger the "stop-time rule" with respect to eligibility for cancellation of removal.
Lucia v. Securities and Exchange Commission (June 21, 2018)
Securities and Exchange Commission's ALJs are "Officers of the United States," subject to the Appointments Clause.
Chavez-Meza v. United States (June 18, 2018)
Because the record as a whole demonstrated that the judge had a reasoned basis for his decision, the judge's explanation for petitioner's sentence reduction was adequate.
Besinek v. Lamone (June 18, 2018)
Maryland District Court properly denied preliminary injunctive relief in a case alleging retaliatory gerrymandering.
Lozman v. Riviera Beach (June 18, 2018)
The existence of probable cause for the plaintiff's arrest does not bar his First Amendment retaliation suit under 42 U.S.C. 1983 because of the requirement that the plaintiff prove an official policy motivated by retaliation.
Rosales-Mireles v. United States (June 18, 2018)
A miscalculation of a Guidelines sentencing range that has been determined to be plain and to affect a defendant's substantial rights calls for a court of appeals to exercise its discretion under Rule 52(b) to vacate the defendant's sentence in the ordinary case.
Gill v. Whitford (June 18, 2018)
Vacating the district court's finding of gerrymandering, the Supreme Court holds that Wisconsin Democrats failed to establish standing to challenge redistricting.
Latest Supreme Court News
Seven Ways Alabama Has Made It Harder to Vote
The New York Times,
Five years ago, the Supreme Court struck down a key part of the landmark Voting Rights Act. Since then, Alabama has enacted a slew of restrictive voting laws and policies.
Opinion analysis: Court holds that police will generally need a warrant for sustained cellphone location information (Updated)
SCOTUSblog,
[NOTE: This post, originally published at 11:26 a.m., was updated with additional analysis at 2:11 p.m.] Over 40 years ago, the Supreme Court outlined what has come to be known as the "third-party doctrine" – the idea that the Fourth Amendment does not protect records or information that someone voluntarily shares with someone or something…
Opinion analysis: Justices approve broad damage recovery for patent-infringing exports
SCOTUSblog,
This morning's opinion in WesternGeco v. Ion Geophysical Corp., holding that the Patent Act authorizes a damage award for patent-infringing exports, is far from what you would have expected from the argument. In April when the justices heard from counsel for the parties, the bench engaged in a heated and far-ranging debate that touched on…
The Supreme Court Takes On the Police Use of Cellphone Records
The New York Times,
The court continues to define what privacy means in a world of ever-evolving technology.
How Do YOU Think About the Right to Vote?
Justia's Verdict,
UNLV Boyd School of Law professor Leslie C. Griffin comments on the US Supreme Court's 5–4 decision in Husted v. A. Philip Randolph Institute, in which the Court upheld the legality of Ohio's voter list maintenance procedure. Griffin explains some of the key points made in each of the four opinions and shares a deeply personal story about how she came to understand how seemingly innocuous list-maintenance laws like the one in this case disproportionately affect minorities, low-income people, the disabled, the homeless, and veterans—just as Justice Sotomayor described in her separate dissent.
Press Release Regarding Justice Sotomayor
Supreme Court of the United States,
U.S. Supreme Court Justice Sonia Sotomayor is scheduled to undergo reverse total shoulder replacement surgery tomorrow morning. Justice Sotomayor injured her left shoulder in a fall at her home on April 16. Tests revealed she suffered a multipart displaced head splitting fracture of her proximal humerus. Further consultation with specialists indicated surgery was warranted. Justice Sotomayor will curtail activities for the next few weeks while she recuperates. She will wear a sling for...
Current Supreme Court Justices